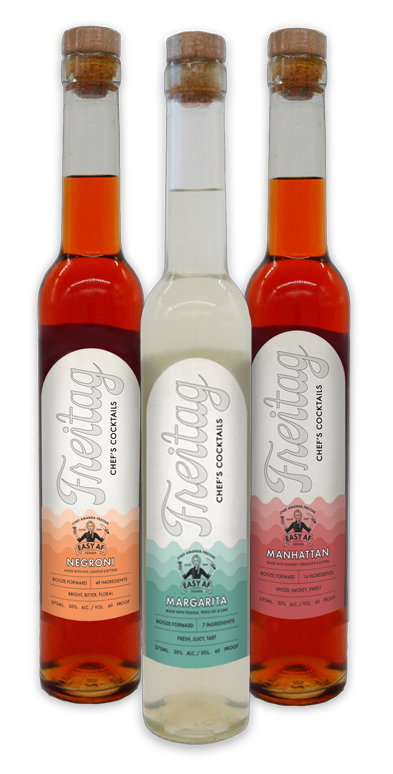 The Trio
Satisfy all your cravings with the perfect cocktail combination all while saving!
The Freitag Manhattan is a perfectly balanced cocktail with spiced and smoky notes and a lightly sweet finish. Utilizing an in-house created vermouth from an aged apple brandy, this beautifully constructed cocktail is bold, yet welcoming. At 30% abv, this cocktail has an oaky whiskey front, a baking spices middle with a tight bitter finish.
With 49 unique ingredients, the Freitag Negroni is a traditional, bright & bitter cocktail with a complex floral overlay. At 30% abv, this cocktail is booze forward bringing a smooth citrus gin on the front finishing with a dry & tight bitter finish.
The Freitag margarita is everything a margarita should be, fresh & boozy. This is a perfect margarita made with tequila from Jalisco, mx. The tequila is floral & vanilla with nice citrus notes which is pronounced at the front of the margarita. A smooth orange flavor mixed with a fresh & juicy profile, rounding out this cocktail with a tart, lime finish. At 30% abv, this margarita is best shaken or stirred.